---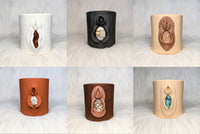 This pot comes with a surprise skin tone and crystal cabochon combination curated by me! 

This is a made to order item that will ship within two weeks.

The pot size is similar to a 3 inch nursery pot; the mouth measures 3 inches across, and they are about 4 inches tall.
The clay used can hold up to water, so feel free to pot your plant directly into the pot if you wish or just set a nursery pot inside! The pots are all made with drainage holes.

These are completely handmade with love! Shapes shown in photos are very accurate, but will not be 100% perfect like manufactured pots. Colors may appear slightly different than photos.